Best Tesla Car Insurance: How Much Does it Cost to Insure a Tesla by Model?
Looking for Tesla Model S insurance? Below you'll find a guide to the best insurance for Tesla Model Y, S, X, and 3, and you'll discover how to get quotes for the best Tesla insurance rates.
Free Auto Insurance Comparison
Secured with SHA-256 Encryption
UPDATED: Apr 28, 2022
It's all about you. We want to help you make the right coverage choices.
Advertiser Disclosure: We strive to help you make confident auto insurance decisions. Comparison shopping should be easy. We are not affiliated with any one auto insurance provider and cannot guarantee quotes from any single provider. Our partnerships don't influence our content. Our opinions are our own. To compare quotes from many different companies please enter your ZIP code on this page to use the free quote tool. The more quotes you compare, the more chances to save.
Electric cars are the future. More people turn to EVs since they are more practical to use, and have become a cool piece to sit in your driveway—particularly the Tesla. So how do you get Tesla Model S insurance?
Tesla has an attractive lineup of powerful vehicles and is the leading luxury electric car manufacturer.
Since you are in the market for a new Tesla, let's see how much it will cost to insure it.
| Model | MSRP | Premium* | MPGe |
| --- | --- | --- | --- |
| 3 | $35,000+ | $1,987 | 148 city / 132 highway |
| S | $74,990+ | $2,963 | 121 city / 112 highway |
| X | $79,990+ | $3,473 | 91 city / 95 highway |
| Y | $49,990+ | $1,965 | 127 city / 114 highway |
| | #blank# | #blank# | #blank# |
*Policy period is 1 year included with traditional discounts.
What's the average cost to insure a Tesla Model Y or S?
Teslas are higher than average to insure.
The best-selling Model 3 costs $2,100 per year, the Model S is about $3,000, the Model X's average car insurance quote is $3,450, and the new Model Y is under $2,000 per year.
Due to their relative novelty and small numbers until recently, some insurance companies are hesitant to insure them.
Illustrated above is the average cost to insure a Tesla by Model. Model Y is the newest and cheapest to insure model. Their most popular Model 3 is approximately $2,100 to insure. In comparison, the Model S and X have a fairly high insurance premium at $3,000 and $3,450 respectively. Depending on your insurance company, the rates could be higher or lower.
You might have to do some more research and shop around to find an insurance provider for your Tesla.
As these vehicles become more common with less expensive replacement parts, premiums should decrease.
Why is the Tesla Y insurance cost so expensive?
There are several reasons why Teslas are more expensive to insure than average vehicles on the road.
The four main reasons are:
horsepower
cost of repairs
risk associated
few repair shops
Tesla has higher horsepower ratings than the vast majority of vehicles.
The P100D Model S enjoys a whopping 762 horsepower, with acceleration to put some supercars to shame.
Another factor is premiums, and optional coverage is pricier from the high cost of repairs.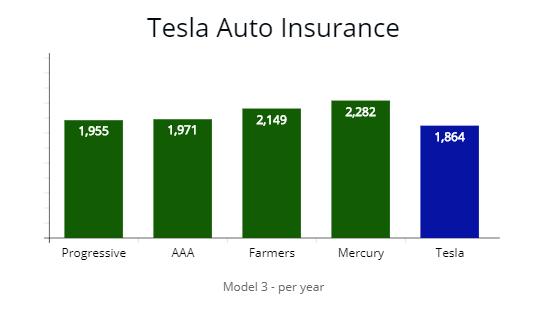 Illustrated above is a comparison of the Model 3 in California. The insurance company states premiums are 20% lower than big brands such as Progressive or Farmers. I've found Tesla's coverage to be cheaper, but not 20% lower than big-name insurers.
The vehicles boast many unique features:
Autopilot systems

Massive battery packs

Cameras and radars

Electric motors
Internally they are very different from standard combustion engine vehicles.
Not many mechanics know the ins and outs, parts are scarce, and any damage will be costlier to fix.
Average Tesla Y, Tesla Model S Insurance Cost
The figures below are average rates and coverages. 
Depending on your location and driving history, your monthly premium could be different from the estimates below.
Tesla Model 3 Insurance
Model 3 is Tesla's best seller, making up more than 70% of all the manufacturer's sales.
In 2019 it became the world's best-selling plug-in electric car.
Overtaking the Nissan Leaf in less than three years of production.
Check Model 3 Insurance Rates here
Its compact size, considerable production numbers, and excellent highway safety rating make it the most economical Tesla vehicle to insure.
Depending on your driving record, it has an average yearly premium of $1,987.
Tesla Model S Insurance
The Model S is Tesla's full-size sedan, and it's the first four-door vehicle in production.
Tesla Model S owners can expect to pay an insurance quote of $2,963/year.
| Company | Rate |
| --- | --- |
| State Farm | $2,877 |
| AAA | $3,077 |
| GEICO | $3,132 |
| Farmers | $3,245 |
| Mercury | $3,511 |
| | #blank# |
Check Model S Insurance Rates here
This figure is significantly higher than the Model 3, but it is expected due to its higher price.
Tesla Model X Insurance
The Tesla Model X is the full-size SUV, released after the Model S.
You can expect to pay a yearly premium of around $3,473.
| Company | Annual Rate |
| --- | --- |
| Liberty Mutual | $3,328 |
| AAA | $3,481 |
| Allstate | $3,645 |
| Farmers | $3,727 |
| Mercury | $3,832 |
| | #blank# |
Check Model X Insurance Rates here
This is a reasonable figure considering the starting price and horsepower rating of the luxury SUV.
Tesla Model Y Insurance
Model Y is Tesla's newest addition to its lineup.
It joins the Model X within Tesla's lineup of electric SUVs, but it's much smaller as it is based on the Model 3.
| Company | Annual Rate |
| --- | --- |
| Progressive | $1,811 |
| AAA | $1,902 |
| GEICO | $1,936 |
| Farmers | $2,038 |
| Travelers | $2,143 |
| | #blank# |
I anticipate the Model Y to have premiums similar to Model 3 due to similar characteristics and costs.
What is Tesla auto insurance?
Tesla Insurance is a new competitively priced insurance policy to give owners up to 20% lower premiums.
Tesla offers comprehensive coverage and collision coverage to owners in California. This option is expected to expand to additional U.S. states. If you are in the market for a Tesla while residing in California, this is an excellent coverage option.
It would certainly be on my bucket list of quotes if I were in the same scenario.
What is the best Tesla car insurance coverage?
For California drivers, a coverage policy offered by Tesla is probably your best option.
Tesla insurance claims that it can offer lower costs than equivalent policies from big insurers due to knowledge about their own cars and repair processes. Another factor that keeps Tesla coverage low is reducing commissions. These cost savings are carried to the customer.
Best Tesla Insurance Rates in the Rest of the U.S.
Unfortunately, Tesla coverage is only available in California.
For Tesla insurance in Massachusetts, for example, the cheapest rate for Tesla are Progressive and AAA, though it will depend on the model.
For Model 3, Progressive offers the most affordable coverage, but you can expect lower premiums with Farmers or GEICO for the Model S and X.
Below is the average cost for coverage by the state with the cheapest insurer.
I picked states where Teslas are more popular.
| State | Average Rate | Best Insurer | State | Average Rate | Best Insurer |
| --- | --- | --- | --- | --- | --- |
| Arizona | $2,004 | Mercury | Maryland | $2,577 | Esurance |
| California | $2,122 | Progressive | Michigan | $3,843 | Pioneer |
| Colorado | $2,563 | American National | New Mexico | $1,932 | Ameriprise |
| Connecticut | $2,675 | Farmers | New York | $2,785 | Erie |
| Florida | $3,022 | Allstate | Ohio | $1,832 | Erie |
| Georgia | $2,355 | Nationwide | Oregon | $1,743 | Amica |
| Hawaii | $1,732 | Allstate | Texas | $1,835 | Texas Farm Bureau |
| Illinois | $1,932 | Farmers | Virginia | $1,944 | Nationwide |
| Indiana | $1,892 | Nationwide | Washington | $1,832 | Oregon Mutual |
| | #blank# | #blank# | #blank# | #blank# | #blank# |
Most drivers take advantage of bundling & driver discounts with large insurers such as Progressive or Farmers.
Are discounts available for Tesla Model S insurance?
There are discounts available that are exclusive to Teslas, the most noteworthy one being the autopilot discount for having an autopilot feature.
Tesla claims Autopilot is less likely to cause an accident than a human driver.
With Autopilot, you can get additional savings from 5 to 10%.
Unfortunately, this discount only applies to coverage options bought from Tesla.
Standard discounts are available from top insurers such as:
Multiple policies

Good driver

Anti-theft

Anti-lock brakes

Loyalty

Airbag

Group rates

Safe drivers

Loyalty discount
Tesla Model S Insurance and Theft
Teslas are much less likely to be stolen than most vehicles.
The vehicles have Sentry Mode, which leaves the vehicle in a "monitoring" state.
All cameras and sensors remain active and alert the owner if someone is too close to the vehicle.
Furthermore, a thief needs to be able to hack into it to get the car started.
| Security | Feature |
| --- | --- |
| GPS tracking | Owners can get real time data of car location. |
| Sentry Mode | Puts vehicle in monitoring state with cameras and sensors. It will display "recording in progress". |
| Pin To Drive | You have to enter a pin number to drive. |
| | #blank# |
Even if the thief can drive away with it, all Teslas have GPS tracking technology running at all times, making it easy to track.
It is a sophisticated theft system with tech features.  
They will also have to charge the car at some point using a Tesla charger or a public Supercharger.
Tesla Model S Insurance and Safety
The Tesla Model 3 was rated 5/5 by the National Highway Traffic Safety Administration, achieving a 5-star rating in every category.
This makes Tesla's automobiles some of the safest to drive.
Below are standard safety features:
| Safety Features | |
| --- | --- |
| Cross-Traffic Alert | Traction Control |
| Daytime Running Lights | Blind Spot Monitor |
| Passenger Air Bag | Auto-Leveling Headlights |
| Front Head Air Bag | Lane Departure Warning |
| 4-Wheel ABS | Lane Keeping Assist |
| Brake Assist | Electronic Stability Control |
| | #blank# |
The tests also showed it has the lowest probability of injury out of all the cars tested. (source)
The NHTSA had also previously tested the Model S and Model X.
They attained very high safety ratings, being the second and third safest vehicles tested.
Overall, safety ratings show that Tesla vehicles are the safest ever tested, mostly due to a 50/50 weight distribution, low center of gravity, strong passenger compartments, advanced crumple zones, and fortified long-range battery packs.
Final Thoughts: Best Car Insurance for Tesla Model Y, S, and More!
If you're looking to buy a Tesla and reside in California, then definitely look into their insurance program.
I know I would like to find lower prices. 
It would be best to compare additional coverage needs and prices with big brands.
Would you see lower rates with Tesla's auto insurance?
Yes, it appears so.
You would get a better rate, especially if you have good driving habits. 
Since it has high repair and maintenance costs, keeping the overall premium low could prove difficult.
Especially with a fairly high vehicle cost with autonomous driving models. 
How they handle the claims process and repairs after the driver's file remains to be seen.
Editorial Guidelines: We are a free online resource for anyone interested in learning more about auto insurance. Our goal is to be an objective, third-party resource for everything auto insurance related. We update our site regularly, and all content is reviewed by auto insurance experts.